When your workflow requires maximum flexibility and you have a well-organized, motivated team — all you lack is Kanban, which is implied in APRO CRM functions (namely, in closing deals by stages and in tasks).
A few facts
Kanban originates from Japan. It is literally translated as the combination of "kan" — meaning "visual", and "ban" — denoting a "card/board". The term initially appeared in Taiichi Ohno's "Toyota production system", and was later put into practice and applied to the company business processes in 1959. Kanban consists in attaining sustainable results through process visualisation, which makes it easier to detect and eliminate flaws and faults, that result in haulting production and consuming the time. Kanban provides for cost saving by means of timely accomplishing of tasks — with no delay.
This is how it looks when put into practice:
A general annual plan is developed and used as basis for monthly plans for employees or specific production sectors. The plan is based on predicted customer demand.
Daily working shifts for assembly lines are scheduled.
The order for component parts is passed to production by means of sticking color cards INSIDE and OUTSIDE the containers for component parts. The order cards contain the quantity of units to be produced for the next stage. Selection cards describe the type and the quantity of component parts that are to arrive from the previous stage, thus making it easier for the operators to evaluate the resources they got from previous stages.
Each department manager has a special board with card duplicates to control the process.
All this results in a consistent work of assembly lines, timely orders for component parts, transparent management of the whole production process and its delays.
Kanban mechanism helps reveal and eliminate problem points. For example, it is possible to save on stock holding by means of providing the precise quantity of resources a production requires. You can evaluate the demand for each stage proceeding from the previous stage. Although Kanban dates back to the past century, its principles are still up-to-date. Today, the area where Kanban is applied has been significantly expanded to include not only all sorts of production, but also sales, software development, projecting, etc.
Kanban in action
Next step is visualisation. This is how it looks: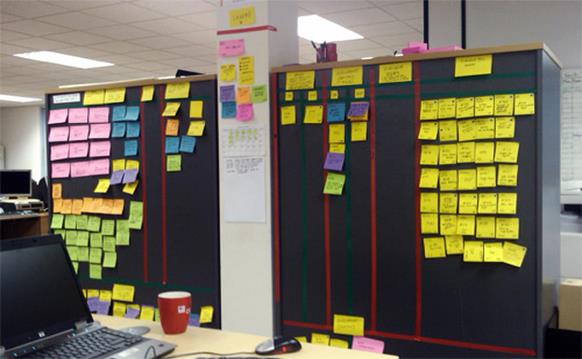 Take any board available: a wooden/magnetic/paper/electronic one. Break the workflow by stages, each forming a separate column with any suitable title: "Task name", "Being processed/being produced/being handled", "Ready". Division by colums is totally improvised — from the elementary to the most complicated depending on how multistaged the process is and on your convenience.
You will need cards/stickers to denote tasks that will migrate from one process stage to another — each ending with a final or a transitional product.
The absence of rigid deadlines makes it very convenient for each employee to focus on their task from the very beginning to the end. Just as the task is accomplished, the process is over, resulting in highly-organized, consistent workflow with no delays and no rushing, flexible tasking in case of a flaw/overachievement and ranging of tasks by their importance and urgency.

Making the way from setting a task to its accomplishment the shortest possible — is the target of Kanban.
Kanban advantages
ideal for highly-organized and result-oriented teams;
no rigid deadlines;
flexible tasking at any process stage;
even workload for each employee;
highly-structurized system aimed at constant progress and improvement;
reasonable human resource management;
versatility and adaptibility.
Kanban disADVANTAGES
in order to excell in teamwork over difficult tasks, the skills of the employees must be interrelated;
the absence of rigid deadlines might result in occasional slumps.
KANBAN AND CRM
No need to stick over the walls, when you have CRM! CRM employs the same old principle — just using a virtual board. You can enjoy Kanban in tasks and sales management in APRO CRM.
Below is an example of how the workflow of a sales department could be organized.
You can break deal processing into the following stages:
"Request" (from website, call, appointment)
"Itemization/preliminary processing" (call, email)
"Payment and delivery to warehouse"
The number of stages and their names may vary.
who needs it?
United, highly-motivated teams of qualified experts aiming at achievement and improvement and ready to step into the breach in case of a fault.
Projects with an unceasing flow of tasks.
Workflows, where flexibility and versatility prevail over rigid plans and deadlines.